Home Learning
Welcome to our Home Learning page!
Please also see our Memory Maker section for year-round learning ideas and strategies.
Reading at home with your child: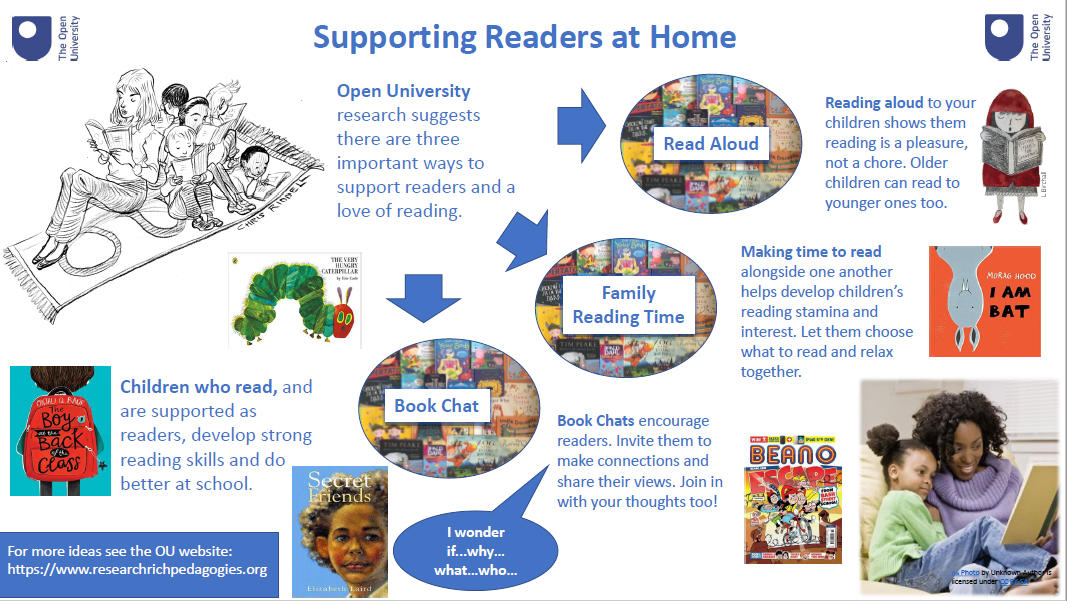 CBBC are uploading videos to their YouTube Channel daily that are suitable for 5-11 year olds.
They have all the top CBBC brands, with a wide range of genres from factual shows, news, dramas, comedy to entertainment. Programmes like Horrible Histories, Blue Peter, Newsround, The Next Step, Saturday Mash-Up, Operation Ouch, the Playlist, the Dumping Ground, Heirs of the Night and Jamie Johnson.
They are also welcoming back Dani Harmer in the brilliant new programme My Mum Tracy Beaker.
To subscribe www.youtube.com/cbbc - (it's obviously completely free to subscribe!) and don't forget to watch the CBBC live daily and on the BBC iPlayer.
https://parentzone.org.uk/lockdown-advice-and-resources?utm_source=Parent+Zone+Newsletter&utm_campaign=57ac8933e3-EMAIL_CAMPAIGN_allat17sept_uk_COPY_01&utm_medium=email&utm_term=0_1ee27d9000-57ac8933e3-178762897#lockdown-advice
Government Recommended Home Learning Packages
| Name | |
| --- | --- |
| Government recommended resources about SPACE.pdf | Download |
| Early Years Government Recommended English Home Learning June 2020.pdf | Download |
| Early Years Government Recommended Maths Home Learning June 2020.pdf | Download |
| Government Recommended Home Learning PE and Physical Activity June 2020.pdf | Download |
| KS1 and KS2 Government Recommended Science Home Learning June 2020.pdf | Download |
| KS1 Government Recommended English Home Learning June 2020.pdf | Download |
| KS1 Government Recommended Maths Home Learning June 2020.pdf | Download |
| KS2 Government Recommended Maths Home Learning June 2020.pdf | Download |
| KS2 Government Recommended English Home Learning June 2020.pdf | Download |
Showing 1-9 of 9
Home Learning Guides and Programmes