Through the National Curriculum, children have an introduction to a Modern Foreign Language during the Key Stage 2 phase of primary school. Learning a foreign language provides an opening to other cultures and fosters pupils' curiosity, deepening their understanding of the world. Children also learn to understand and respond to spoken and written language in a language other than the one they usually use.
We have a French curriculum which ensures that children develop key language learning skills, as well as a love of languages and a broad understanding of other cultures. We believe that a high-quality language education should foster children's curiosity, encourage them to express their ideas and thoughts in another language and to be effective communicators. Our curriculum provides opportunities for children to communicate for practical purposes and build a solid foundation for continued language learning at secondary; all while having fun and developing self-confidence.
We do this by:
Teaching French throughout Key Stage 2;

Ensuring that French is a valued part of our curriculum

Ensuring all four areas of language learning (speaking & listening, reading and writing) are taught and progression built in year on year

Providing real-life opportunities for children to practise and develop their learning.
Children in LKS2 and UKS2 are having lessons using our new programme 'La Jolie Ronde'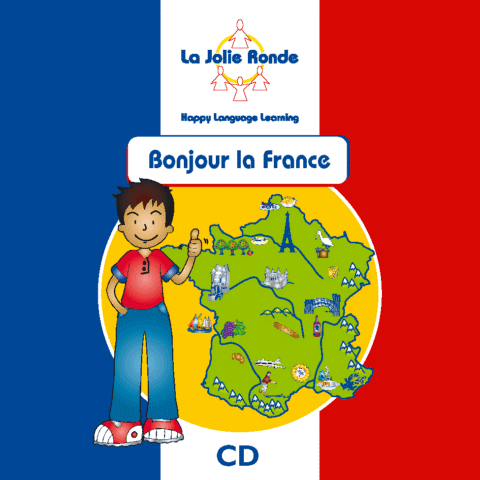 Helen, from Harborough Languages came to visit us yesterday and we had lots of fun singing and playing games in French!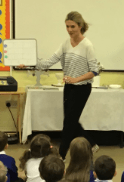 Helen leads our French Club which takes place on Mondays from 12.30-1pm in school and is open to children in all classes (Please see the 'Fun French For Kids' poster on this page).
French Club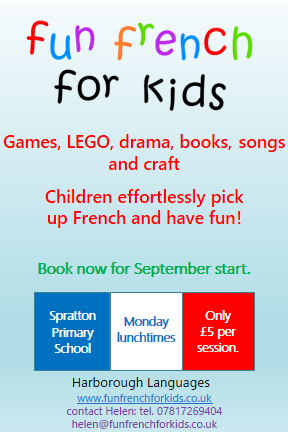 A qualified and experienced teacher from Harborough Languages will visit Spratton Primary School every Monday lunchtime to teach the children French, using songs, rhymes, games, puppets, craft, drama, signing, books and even lego!
Fun French For Kids is designed to nurture positive attitudes to language learning and other cultures, in a happy, relaxed atmosphere. All sessions are taught with enjoyment in mind so the children effortlessly acquire French and have FUN!

There are so many reasons why it's a good idea to learn additional languages: accelerated progress in literacy, numeracy and creative thinking; future travel and work; cultural and global perspective, to mention just a few. Encouraging children at a young age is the best way to inspire a continued love of languages in to the future.