Curriculum - Music
We are a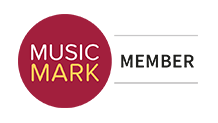 school!
Our Music Curriculum in School
'Music is a universal language that embodies one of the highest forms of creativity.'
Our music curriculum is ambitious and all staff share high expectations for all children in learning music, regardless of starting point, background or educational challenges. We aim for every child to be able to:
perform, listen to, review and, evaluate a diverse range of high-quality live and recorded music, including the works of the great composers and musicians

sing, chant and to use their voices expressively and creatively, both on their own and in groups of varying sizes, including in simple, complex, multi-part rounds and partner songs

explore how music is created, produced and communicated, including through the inter-related dimensions: pitch, duration, dynamics, tempo, timbre, texture, structure and appropriate musical notations

experiment with, create, select and combine sounds using the inter-related dimensions of music

create and compose music on their own and with others, practising, refining and performing, playing tuned and untuned instruments musically

have the opportunity to learn a musical instrument and explore their talent as musicians.

use technology appropriately and have the opportunity to progress to the next level of musical excellence
Learning Music at Home
RelaxDaily has an extensive collection of calming music that your children can play as part of mindfulness activities, or when they are working on other educational tasks.
Kidz Bop produce child-friendly versions of popular songs. Can your children learn some of the lyrics or dance along with the moves shown in the videos?
Classical Kids Storytime features children's stories that are accompanied by classical music.
Free School has playlists to teach your children about Beethoven and Mozart.
If you have an iPhone or iPad at home, you can download GarageBand for free and have a go! There are lots of free resources and handy video clips on YouTube; just search 'Garage Band for kids' or 'Garage Band for Beginners'
Music News
May 2022
"Are you a young person interested in music and performing arts? Would you like to rehearse and perform with other, like-minded individuals? Why not audition for a County Group?!
NMPAT offers a wide range of performing arts activities including bands, choirs, orchestras, chamber and jazz ensembles and Young Actors Company.
County Group auditions and rehearsals take place at NMPAT, 125 Kettering Road, Northampton, NN1 4AZ. Each group rehearses weekly and performs in concerts and festivals throughout the year at venues including Northampton's Derngate.
Auditions are FREE! Once accepted, membership is subject to a subscription.
For more information and to apply online please go to www.nmpat.co.uk/auditions"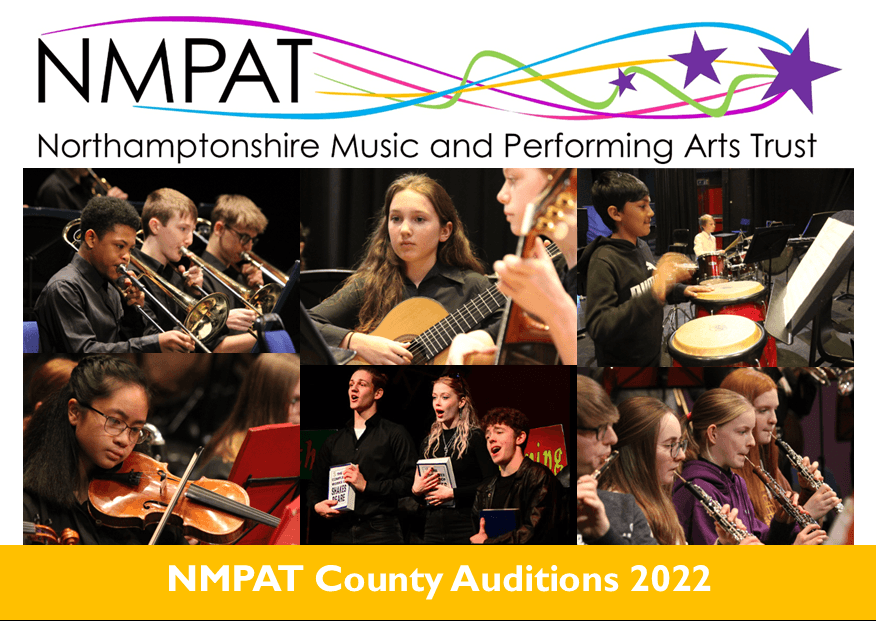 Christmas 2021
Please see the 'Our Church School' section and our 'Christmas 2021' page to see and hear our Christmas carols and performances in our school film.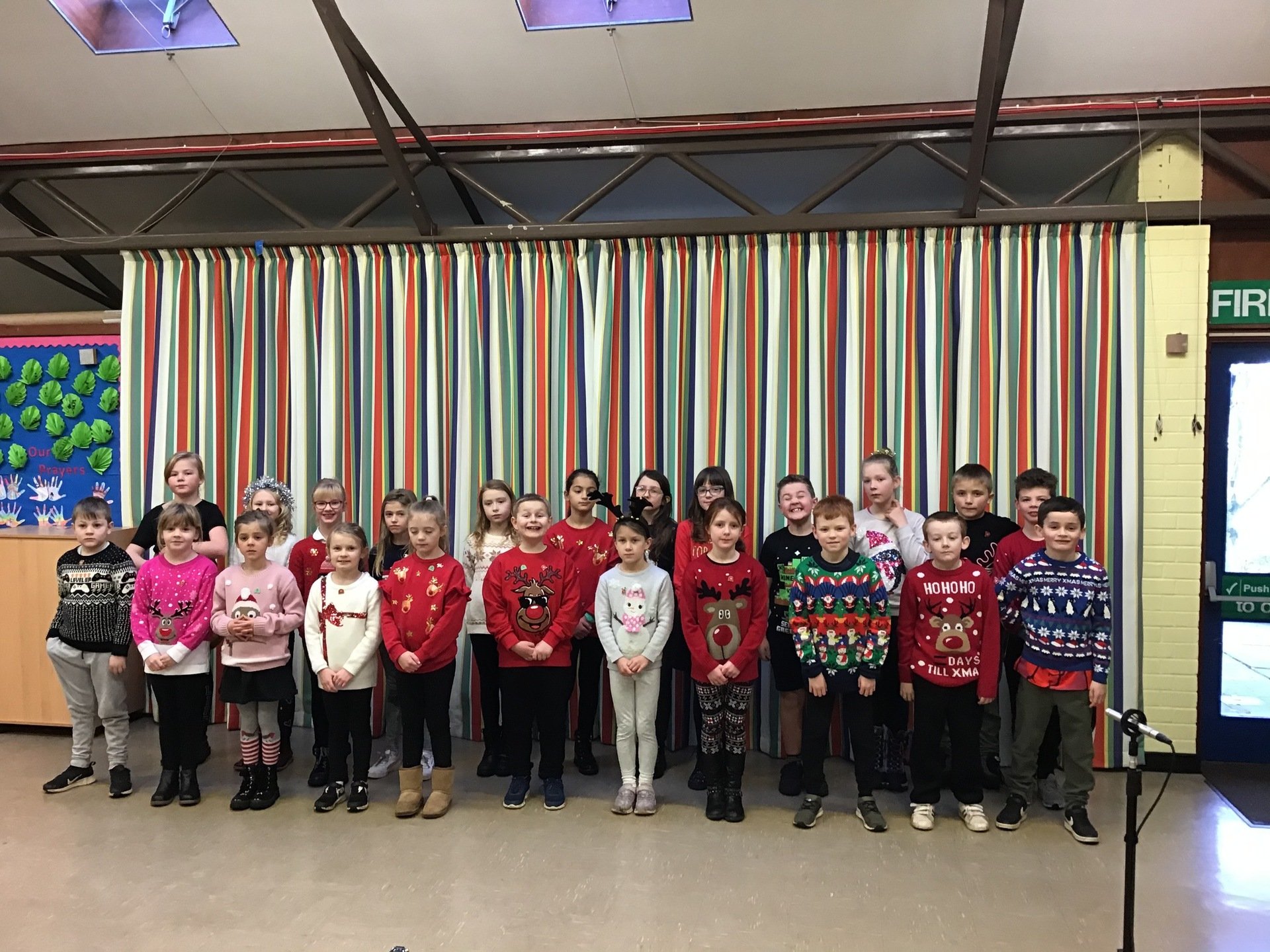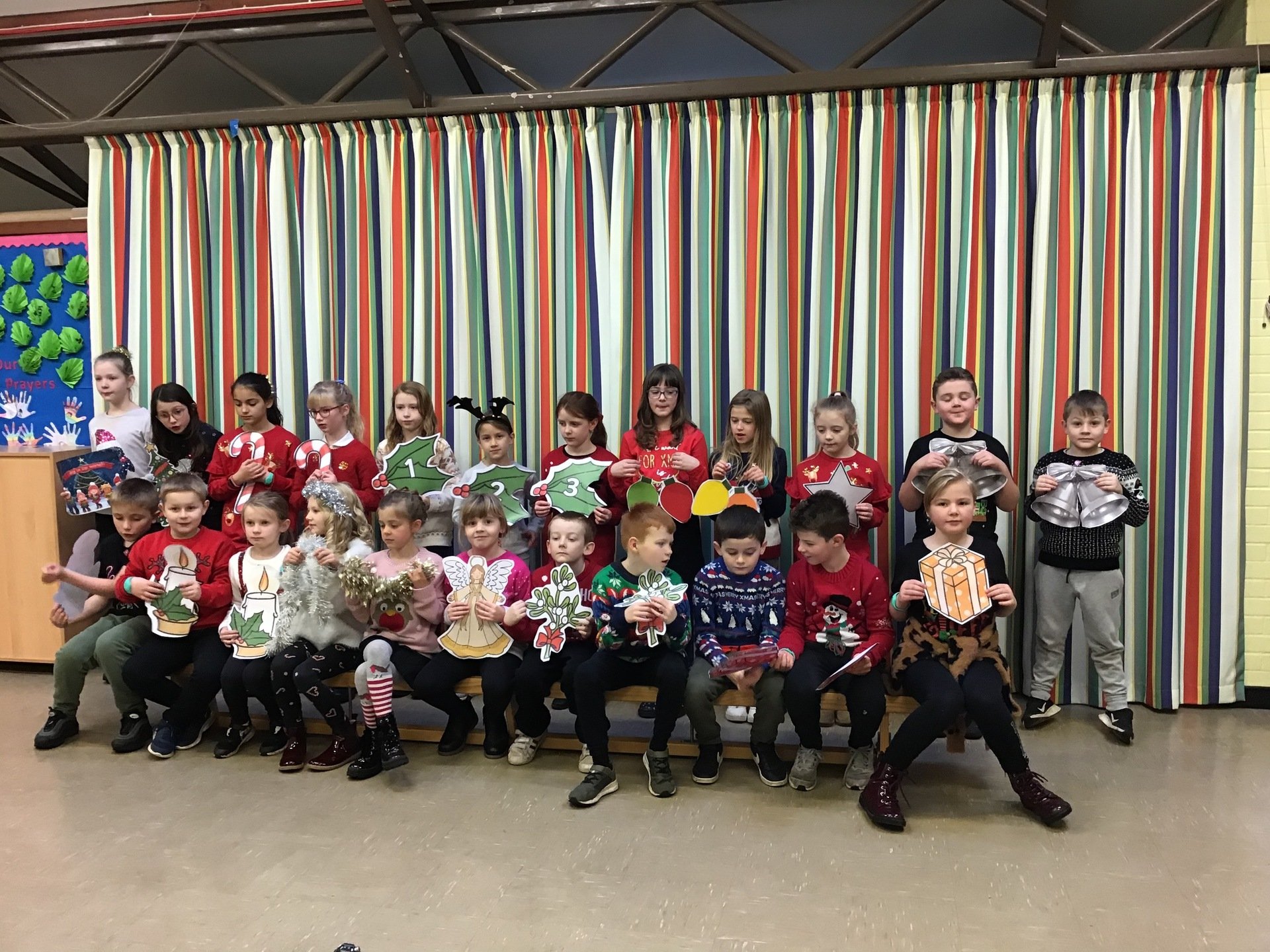 One thing many people look forward to at Christmas is singing carols. After Jesus was born and his teaching began to spread, his followers wanted to share the message of Good News! They put new Christian words to old favourite songs.
The tradition of singing Christmas carols came long before the days of ipods, mobile phones, CD player and even radios, so communities would come together to sing in order to enjoy music.
We are enjoying learning Christmas carols and songs in school, new and old, and singing them in different ways.

Singing can help to alleviate stress and raise the spirits. It is an uplifting form of worship and can be really good fun. Have a go at singing some favourites!

30th November 2021
School Music Day
On Tuesday, the whole school enjoyed a music-themed day.
They had a rich combination of musical experiences including:
singing a variety of songs including partner songs and rounds to different accompaniments (acapella, guitar, recorded piano, percussion, CD tracks)

signing and singing

playing percussion instruments

using body percussion and hand jiving

learning about pitch, tempo and musical vocabulary

learning about the instruments of the orchestra, what they look like and how they sound

listening to songs which are part of our musical heritage including The National Anthem, Swing Low Sweet Chariot, Little Drummer Boy (Bowie and Crosby) and White Christmas.
We are looking forward to sharing songs with families through our Christmas film.
We learned about the instruments of the orchestra and enjoyed playing percussion instruments.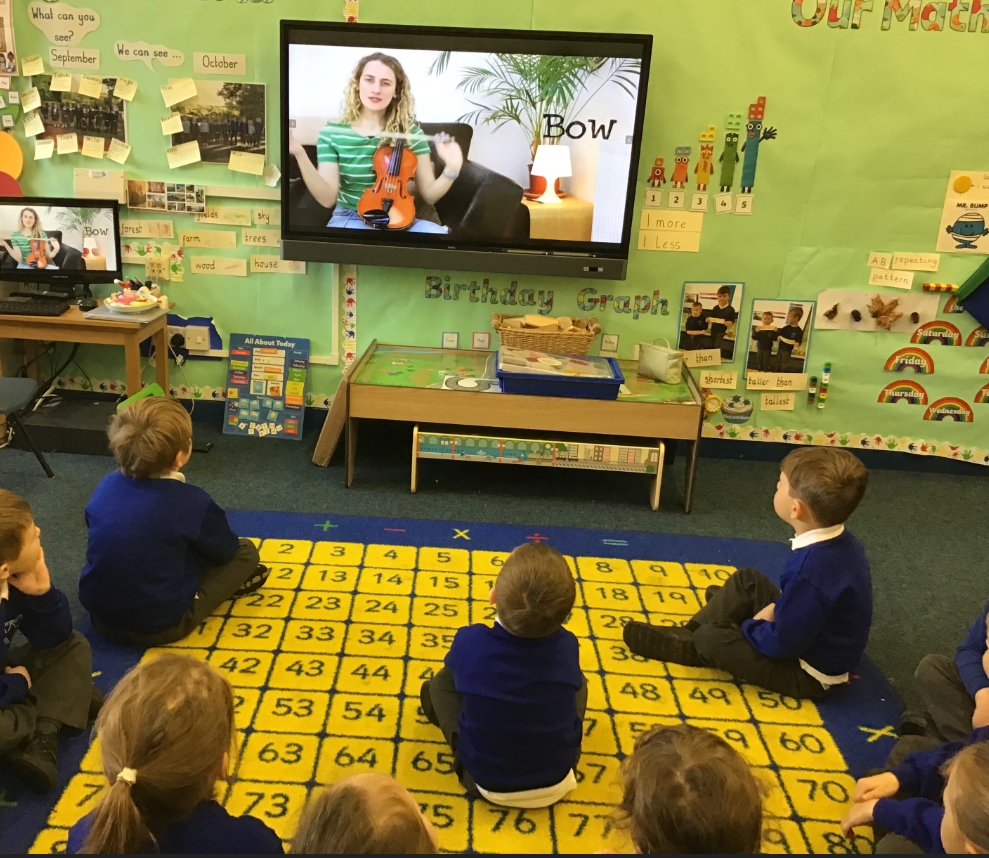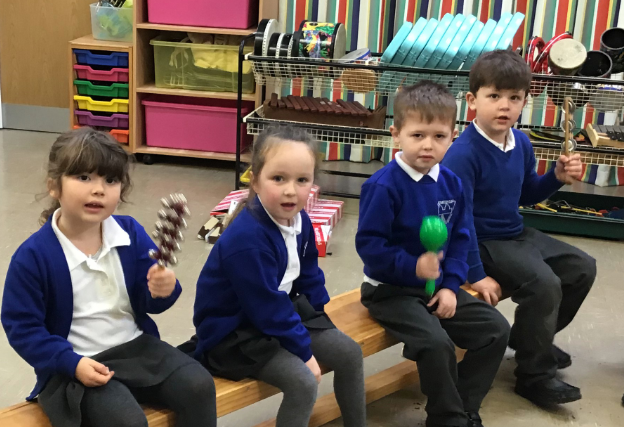 We learned to do the Hand Jive and play Body Percussion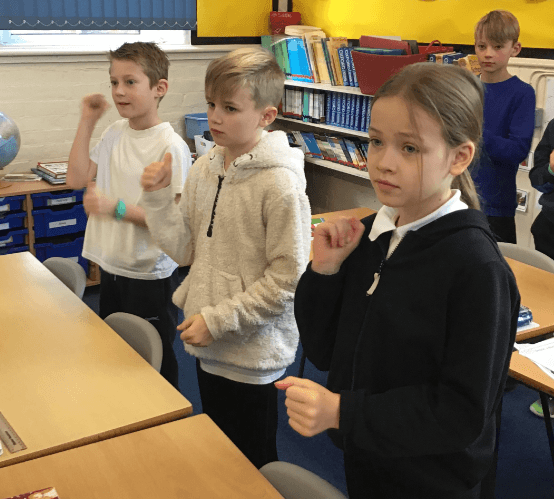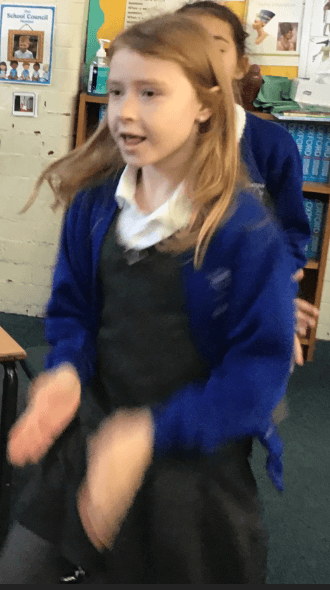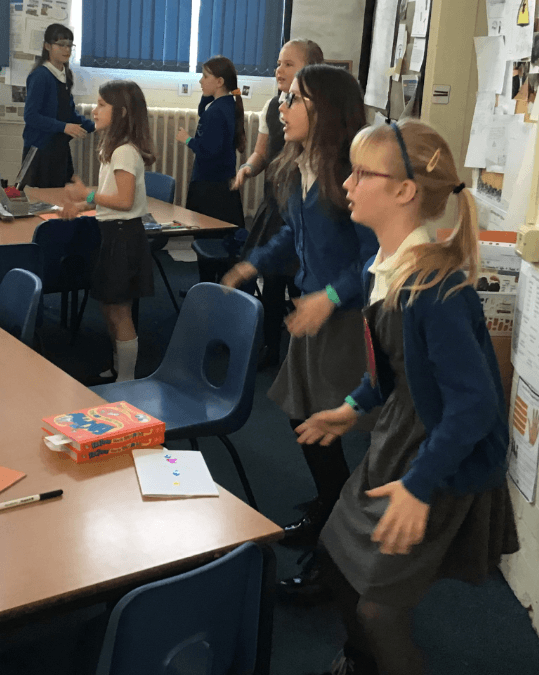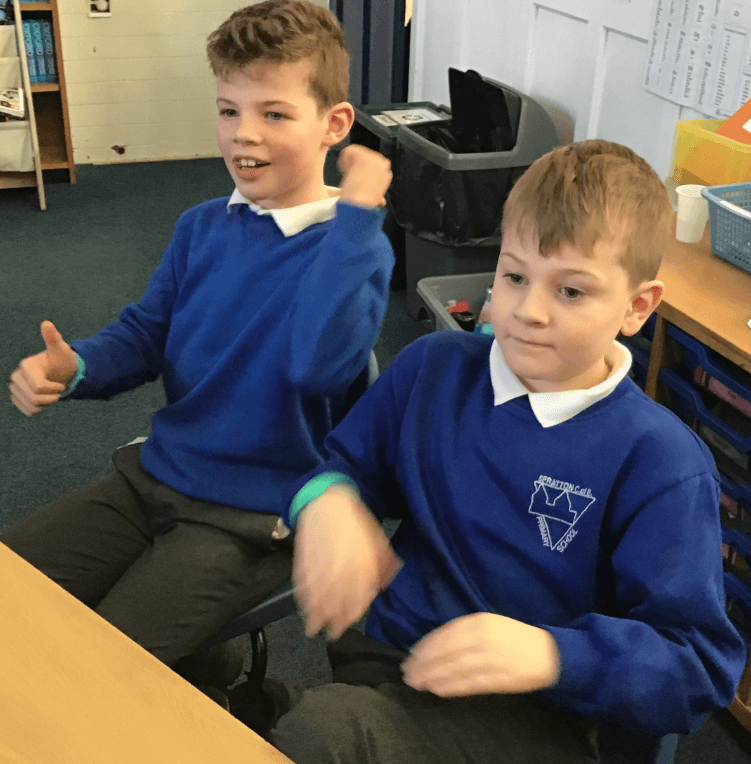 We sang and played instruments.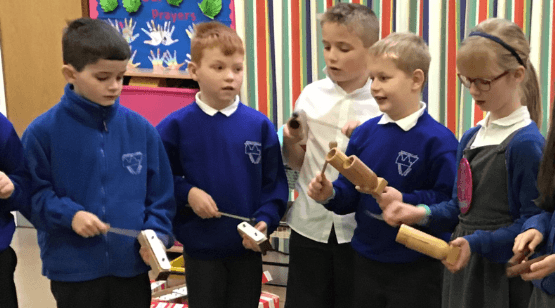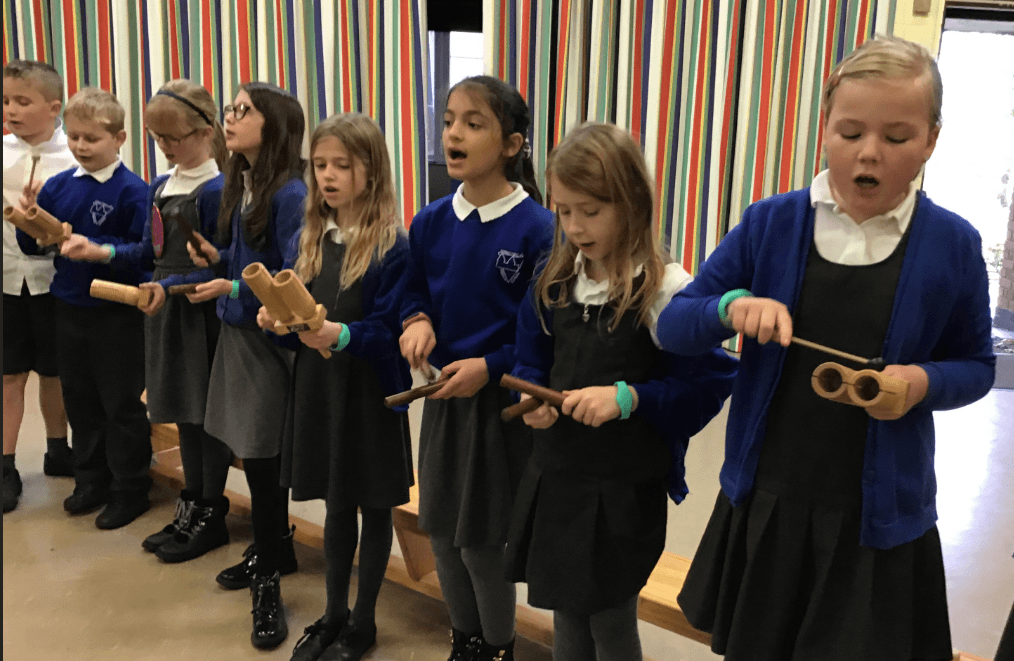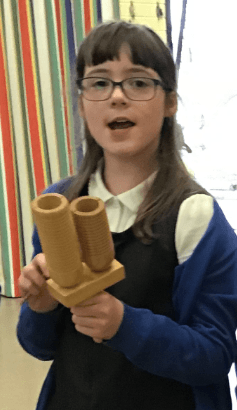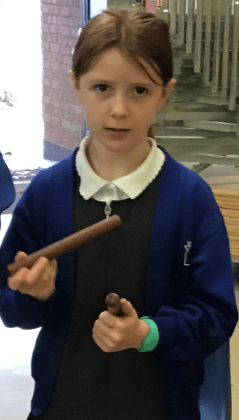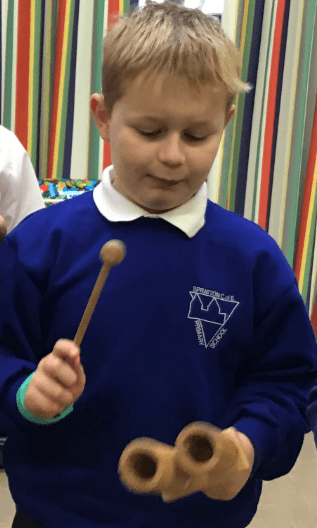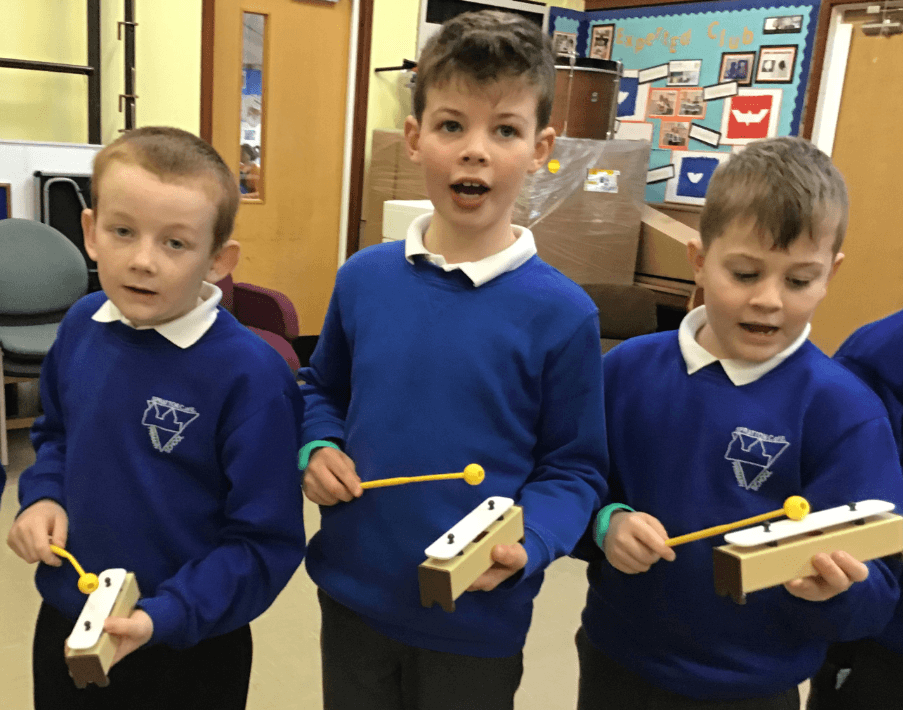 We have been singing and signing.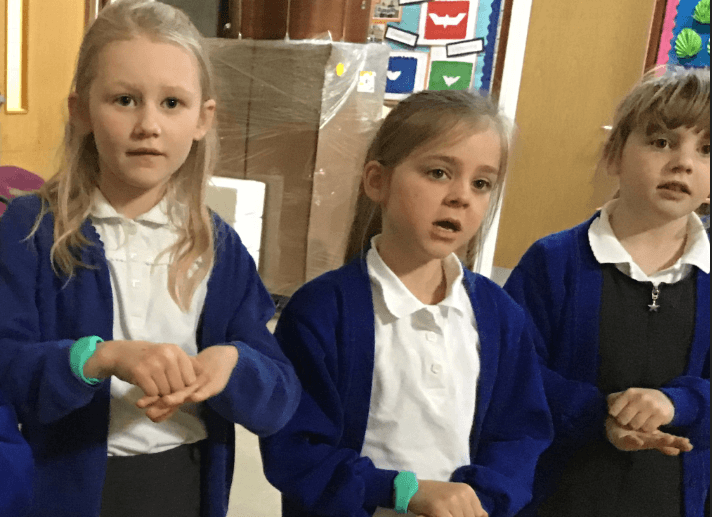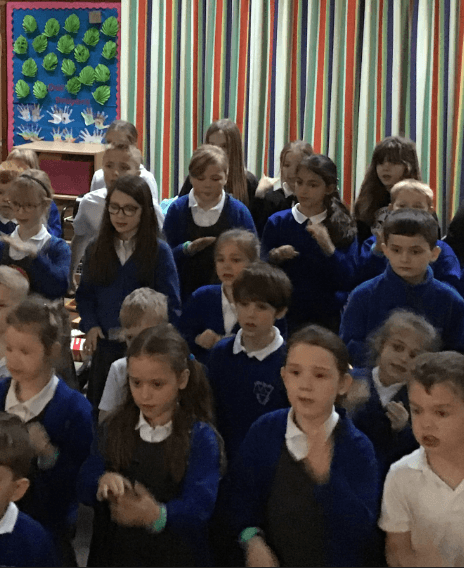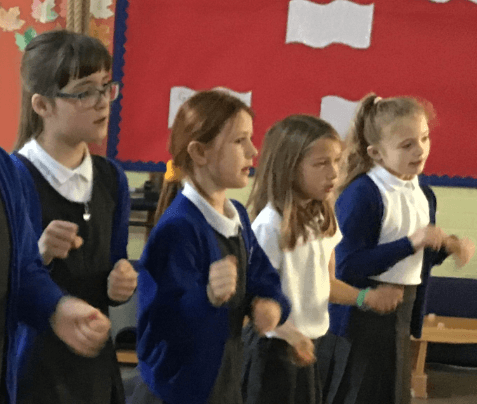 We have been singing acapella and with different accompaniments.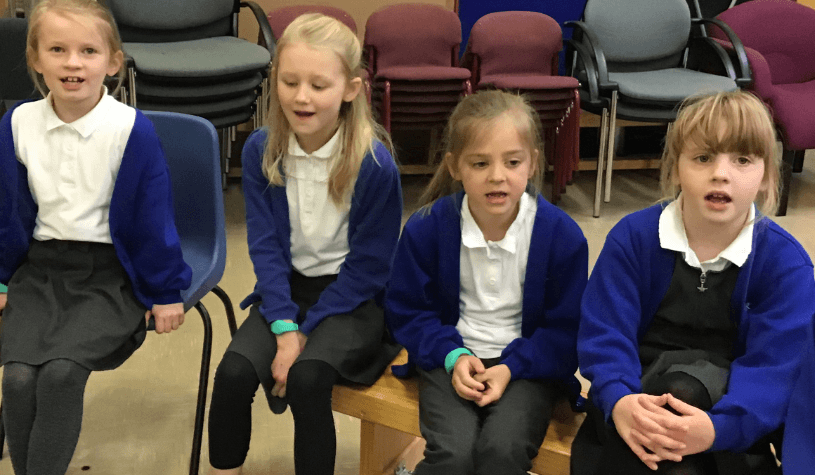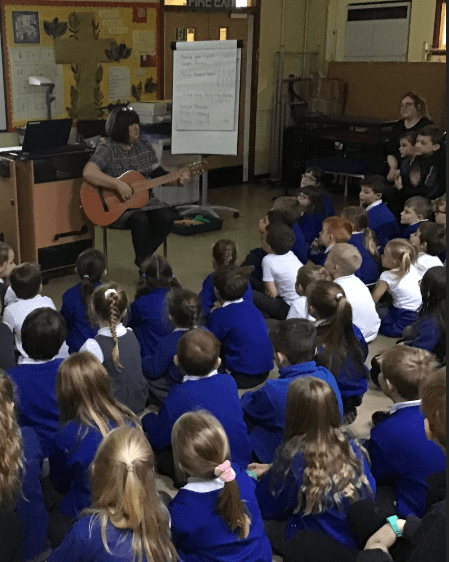 22nd November 2021
Music Lessons with Miss O'Mara

Miss O'Mara has been enjoying musical activities with all classes today.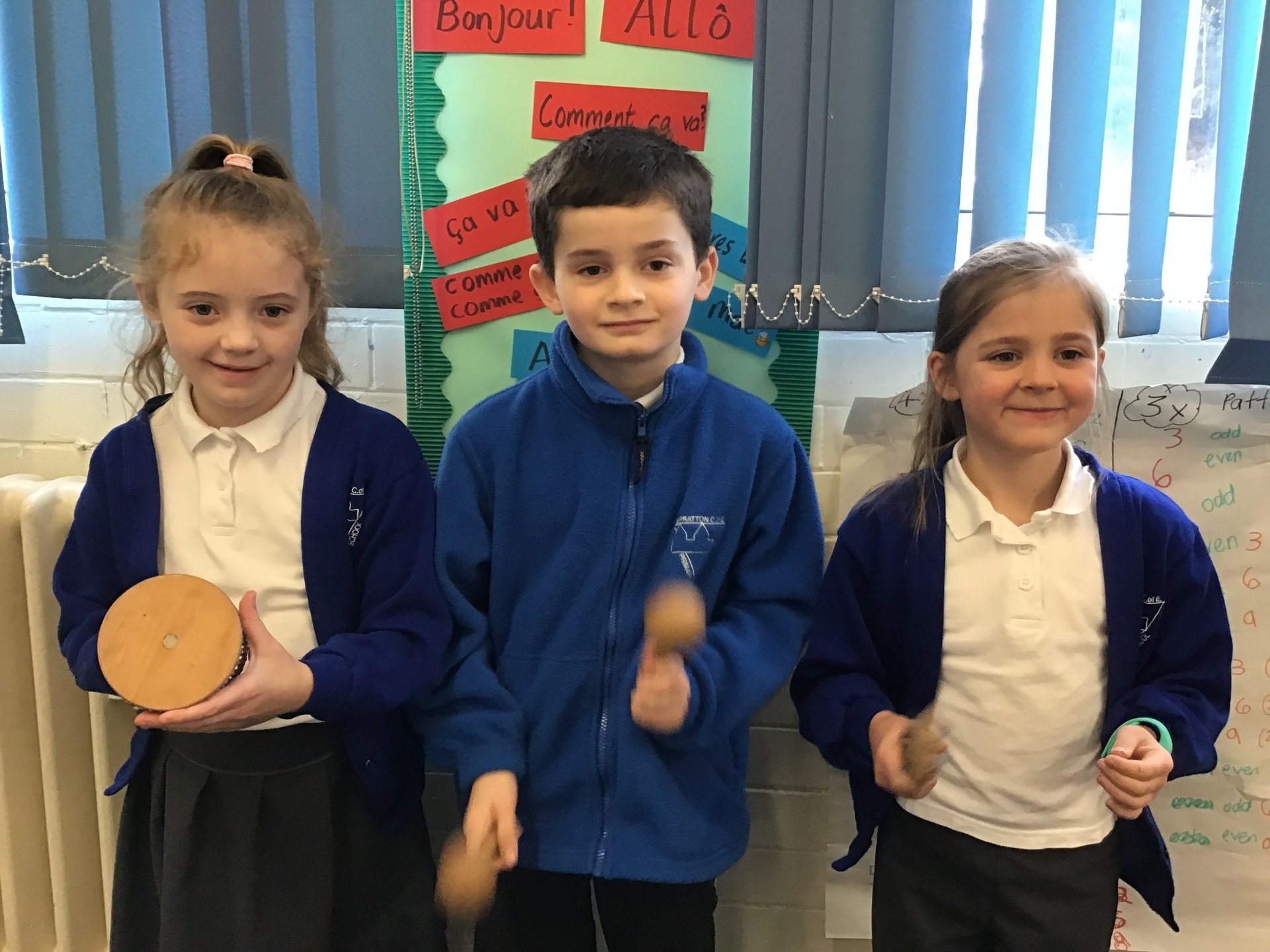 The children have been singing songs, playing musical instruments and learning about musical terminology and notation. Music has many benefits for all of us and especially children. Not only does learning, playing and singing music have a positive academic impact (including on memory, coordination, language and reasoning,) but these activities also assist in developing social skills and provide an outlet for creativity that is crucial to children's development.
Autumn Term 2021
Music for Wellbeing
KS2 children are enjoying our Music for Wellbeing Project in partnership with NMPAT.

This project is designed to support pupils' mental and emotional wellbeing through the medium of music. As all learning is dependent upon our emotional state, this project directly supports the Five Ways to Wellbeing.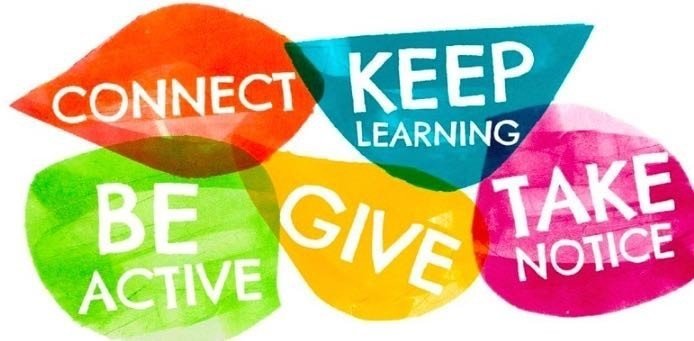 During the sessions, they engage in mindfulness, singing, listening, breathing exercises, movement, and body percussion work
These activities help children to develop skills and language to describe and handle their emotions and to build stronger connections, find commonalities with their peers, and widen their perceptions of others.
Being more mindful can help us all to be better equipped to handle stress in our lives. The children also gain musical knowledge and skills which can be applied to any instrument or voice.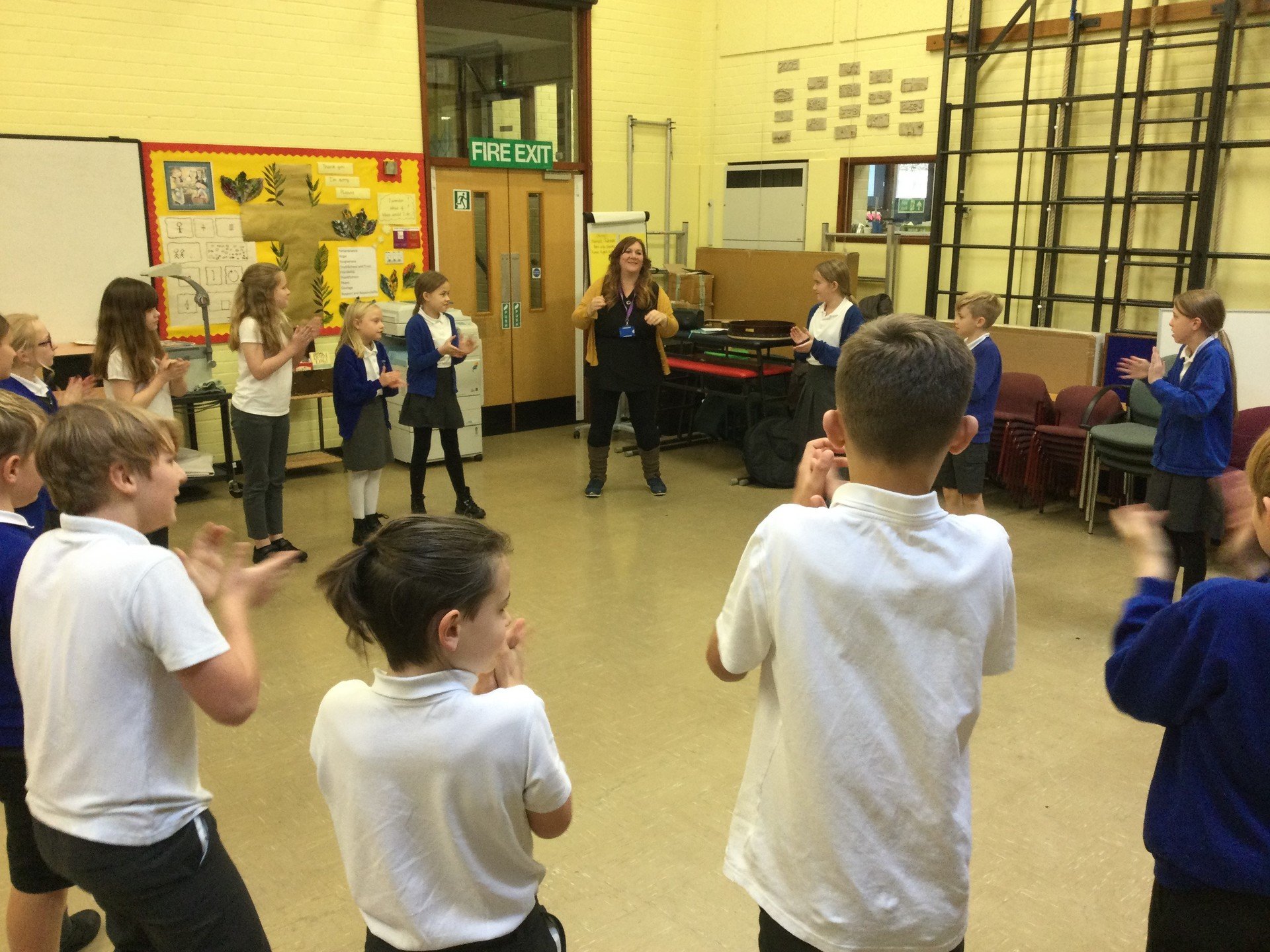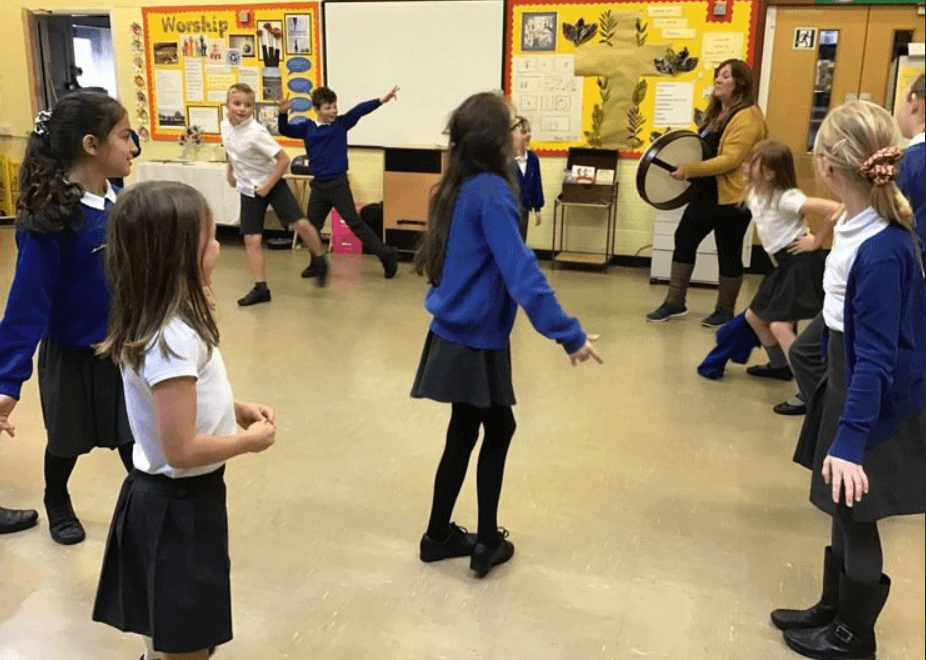 Summer 2021
Keep Learning - Musical Fun!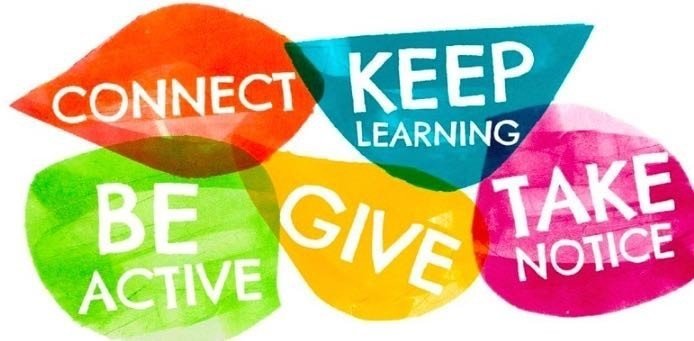 In a 5-week Brass Playing Workshop Project, all of the children in Y5/6 all learned to play a Brass instrument. Not an easy thing to do!
Well done, children - a great achievement!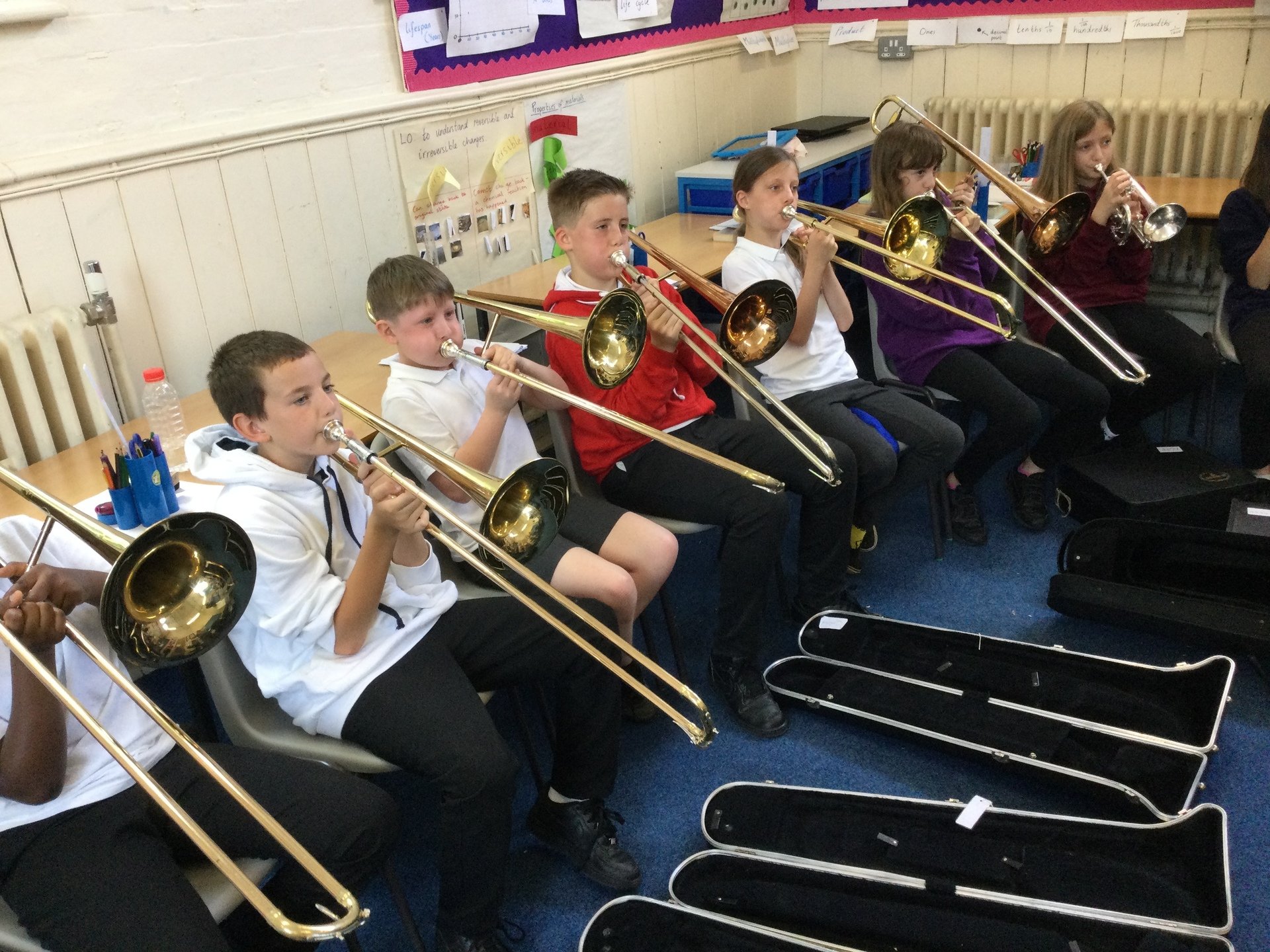 From September 2021, NMPAT are pleased to be launching brand new music production group classes. Sessions will take place on Zoom, to allow the maximum number of students to participate in weekly classes, with opportunities for additional face to face workshops and masterclasses during school holidays.
About our classes
NMPAT can take you through the exciting new RSL Music Production grades; these go from 1 to 8 just like on a traditional instrument.
On completion of each exam, every candidate will gain a wealth of technical, practical and theoretical knowledge that they can apply to real-world scenarios such as:
Audio recording

Electronic music production

Mixing

Editing

Podcasting

Composing

Mastering

Sound for media
Although Music Production can be taught as a standalone subject it is an excellent supplementary subject to learn alongside instrumental lessons.
We are pleased to be working in partnership with Steinberg, one of the leading music technology companies in music education. This amounts to enrolled students gaining free Cubase software to use at home that works on either Mac or PC.
Our in house Focusrite 16 channel recording system uses the latest software running on an industry standard Carillon Audio PC. We have a selection of high quality microphones and some great acoustic spaces at our building, which can be utilised to record contemporary bands, choirs or even orchestras. Our mobile recording setup also allows us to visit schools and capture a wide range of performances.
Some examples of performances that have been recorded in house and at public concerts can be found on our Sound Cloud channel.
To find out more please see the overview below, or contact John Calcott, Head of Music Production: JCalcott@nmpat.co.uk
You can find Music Technology resources to help you learn from home here.
EYFS
EYFS learn lots of Nursery Rhymes including Hey Diddle Diddle, Wind the Bobbin up and Incy Wincy Spider