Uniform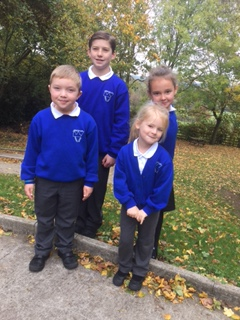 School Uniform List
Please use this link to order items of school uniform online.
We believe that a smart uniform helps children take pride in themselves. Our school uniform consists of:
A smart blue V neck sweatshirt or cardigan with school logo
A plain white polo shirt
Grey trousers or skirt
Grey or white socks
Black school shoes
For PE:
Blue PE shorts
White PE T shirt
Other optional items:
School book bag with logo
Reversible waterproof fleece coat
Polar fleece
PE bag with logo
Blue cap
Jogging bottoms for outdoor PE
We ask all children to wear safe, flat sensible shoes with good grips and no jeans/ training pants, please.
Although we have no dress code for coats, we would like to point out that light coloured coats or those with reflective bands or strips are safer in the winter when it is dark by home-time.
Money and watches and any other valuable items are brought to school entirely at your own risk, we ask you to please discourage this.
Children are not permitted to bring toys to school, unless with the prior agreement of the class teacher as part of their learning activities.